Truly Leading:
Lessons in Leadership
Second Edition
by Del Suggs
After seven printings of the the original version, Del's book Truly Leading: Lessons in Leadership has just been published in the second edition. Del Suggs' new book is a excellent primer for campus leaders. Newly expanded to twenty-five chapters, Suggs covers both the basics and more advanced leadership skills. The chapter titles tell it all: "Leading With Integrity," "Effective Time Management," "The Art of Delegation," "Setting Organizational Goals" and "Conflict Resolution" are all perfect examples of the basic skills that all leaders must master.
New chapters include "Leading With Community Service", with plenty of ideas about service projects; "Avoiding Burnout," to help you maintain a balance in your life; "Creating a Sense of Community" with many concepts of community building; and "Improving Your Campus Elections." Plus, a complete update of the chapter "Embracing Technology" with lots of great information about Del's leadership hacks.
But Truly Leading goes beyond the basics, and addresses those skills that more advanced leaders need. "How to Inspire Others," "Being a Better Leader," "The Power of Ceremony" and "More Effective Meetings" are aimed at lifting an emerging leader into greater success.
Suggs also includes chapters on some very important foundational needs, such as creating a mission statement and some advanced concepts in recruitment. Organizational training needs are addressed in chapters covering both planning and training retreats, along with presenting a full-blown campus leadership conference.
Truly Leading: Lessons in Leadership is chock full of leadership tips, suggestions, and guidance. It is brisk reading, written in a casual style that reflects the author's personal experiences as a life-long leader. The foreword was written by Dennis Haskins, perhaps best known as "Mr. Belding" on the hit TV series "Saved By the Bell."
"The perfect book for college student leaders, " says Jonathan Sprinkles, former "National Campus Speaker of the Year."
Del is glad to sign any books purchased through this site. You can leave signing instructions in the "special instructions" area of the purchase form.
Perfect Paperback: 180 pages
Publisher: Second edition (September 1, 2016)
Language: English
ISBN-10: 149517697X
ISBN-13: 978-1495176975
$15.95
---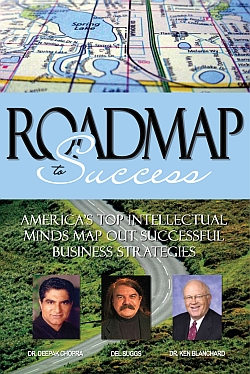 Roadmap to Success

America's Top Intellectual Minds Map Out Successful Business Strategies




How do busy people become successful? Insight Publishing is pleased to present Del Suggs, Dr. Ken Blanchard & Dr. Deepak Chopra in an exceptional compilation of resourceful people who will tell you how they learned how to be successful. They will share with you their secrets and reveal some remarkable insights on how to set goals in life and how to accomplish those goals.

Roadmap to Success is a mini-seminar on how to plan for your success. The successful people in this book have the experience that will help you find what you need to create your road map to success. These perceptive businesspeople are fascinating as they unfold their own personal road maps and tell of their various success journeys.

It's not often that you can access such a large quantity of quality information that will either get you started or help you get further along on your road to success. This book is an investment in your future--your successful future!

Del Suggs has a remarkably multifaceted career as a speaker, an educator, a songwriter, and as a performer. He was voted "Best Campus Speaker" by the school membership of the Association for the Promotion of Campus Activities, and Del has presented over 600 keynotes, lectures, and training programs for college students across the USA. He has been inducted into the National Campus Entertainment Hall of Fame. His book Truly Leading: Lessons in Leadership, is becoming a widely-read reference for leadership development for young adults. Colleges and universities across the country are using Truly Leading to further the leadership skills of their students. He has also earned a Master's degree in Instructional Design and Development from Florida State University, where he studied with Dr. Robert Gagne and Dr. Leslie Briggs-- peers of B.F. Skinner.

Dr. Deepak Chopra is the author of more than sixty books translated into over eighty-five languages, including numerous New York Times bestsellers in both the fiction and nonfiction categories. Dr. Chopra is a fellow of the American College of Physicians, a member of the American Association of Clinical Endocrinologists, Adjunct Professor of Executive Programs at the Kellogg School of Management at Northwestern University, and Senior Scientist with The Gallup Organization. Time magazine heralds Deepak Chopra as one of the top 100 heroes and icons of the century and credits him as the poet-prophet of alternative medicine.

Dr. Ken Blanchard is a author and management expert. His book The One Minute Manager (co-authored with Spencer Johnson) has sold over 13 million copies and has been translated into 37 languages. He has coauthored over 30 other best-selling books, including Leading at a Higher Level: Blanchard on Leadership and Creating High Performing Organizations (2006).
Perfect Paperback: 266 pages
Publisher: Insight Publishing; First edition (August 1, 2011)
Language: English
ISBN-10: 1600137881
ISBN-13: 978-1600137884
$19.95